Posted by breanna cavitt | 0 Comments
If anyone visits your home, the first thing that he or she is likely to notice is the floor. If your floor appears faded or worn, you need to replace it. Doing so will immediately change the looks of your room and increase the value of your property.
Read More
Posted by breanna cavitt | 0 Comments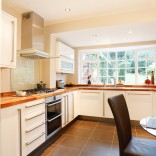 When you think of remodeling a kitchen you may envision a complete overhaul of the space. But, you don't have to remodel your entire kitchen to refresh the look of the space. In fact, making a few changes such as getting new cabinets from a kitchen remodeling company in Naperville can give your kitchen a whole new look. Checkout what meaningful changes you can make without remodeling your entire kitchen.
Read More