Posted by breanna cavitt | 0 Comments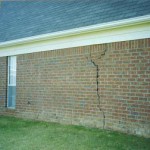 Cracked foundations pose multiple risks to a home, therefore, to avoid further damage, hire a contractor for repairs. Depending on the extent of the crack, most homeowners have cost savings available through repair services. With several repair techniques utilized, contractors are able to execute a method that provides the greatest number of benefits to their client. Take the guess work out of cracked foundation repair by hiring an experienced, well-trained contractor. Although there are several contractors offering these services at discounted rates, it is important to choose a company that effectively repairs the problem. Research various companies and select the one that has a proven record for reputable services.
Read More
Posted by breanna cavitt | 0 Comments
After a pipe bursts or a severe storm comes through, a homeowner may find themselves dealing with standing water in the home. It can be a cause for concern, and many people don't know what to do next. In this article, homeowners can learn the dangers posed by standing water in the home.
Read More